About Hong Kong
Positioned at the mouth of the Pearl River Delta on the coast of southern China, Hong Kong's geographical position as a gateway between the East and West has made it an attractive centre for international trade. As a reflection of this, the heart of Asia's world city has always been the bustling and beautiful Victoria Harbour. Hong Kong comprises 260 islands including one with the largest Buddha in the world. There's the Kowloon peninsula teeming with shops, temples, markets and restaurants; the New Territories, which offers a contrast of scenic beauty and manmade achievements, its unique gardens and parks bursting with birds, wildlife and plants.
Hong Kong can mostly thank its colonial history and international harbor for the rich blend of cultures that give it its unique character. While the majority of the city's population are Chinese speakers, simply walking the streets with expose you to a medley od Asian and European languages.
---
Public Transportation
The reputable Hong Kong International Airport makes Hong Kong the gateway to Asia. There are plenty of ways to get around Hong Kong, whether it's by taxi, ferry, rail, bus or tram. These clean and efficient options cover extensive areas of Hong Kong and have signs and announcements in both English and Chinese. The city claims one of the world's safest, most efficient and frequent public transport systems and a convenient payment method in the form of the Octopus Card.
MTR
Mass Transit Railway (MTR) system covers all major district in the territory, consisting of eleven rail lines. The MTR also operates a light rail system that runs between Yuen Long and Tuen Mun in the New Territories.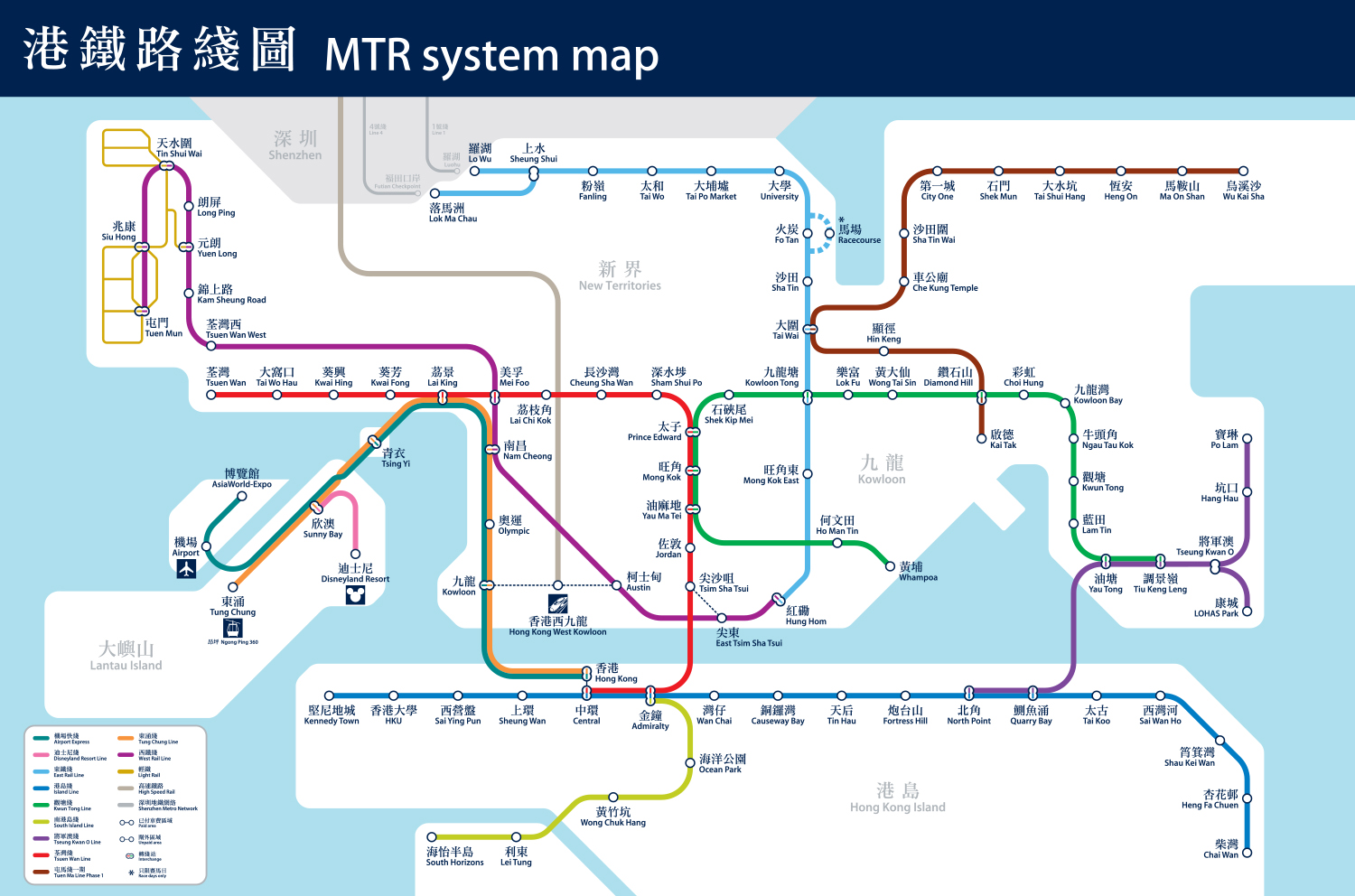 For more information, please visit: http://www.mtr.com.hk
Buses
Buses in Hong Kong are plentiful and comfortable, and most are air-conditioned. Especially popular are the double-deckers that offer great views of the surrounding city from the top deck. Bus routes cover almost all of Hong Kong. Kowloon Motor Bus, New World First Bus and Citybus operate routes that cover Hong Kong Island, Kowloon and the New Territories. Final destinations are prominently displayed in English and Chinese on the front of each bus.
---
Octopus
Octopus is an extremely versatile stored-valued electronic card that can be used for most public transport, as well as purchases in convenience stores, fast food shops, supermarkets, cake shops, vending machines and more. Simply place the Octopus card over a reader and the payment amount will be automatically deducted from the stores value.
For more information, please visit: http://www.octopus.com.hk/home/en/index.html
---
Visas and Passports
In general, all visitors to Hong Kong must have a passport that is valid for at least one month after the period of their intended stay in Hong Kong. Please contact the Immigration Department for further details. Visitors from most countries can enter Hong Kong without a visa for periods of seven days to 180 days, depending on nationality. You may check the website: http://www.immd.gov.hk for details. Visas for Mainland China can be obtained in the Office of the Commissioner of the Ministry of Foreign Affairs of the People's Republic of China in Hong Kong or China Travel Service (HK) Ltd.
---
Climate
Hong Kong has a subtropical climate with distinct seasonal changes. Temperature in November varies between 19 - 24℃. You can find detailed weather updated for tourist attractions on the Hong Kong Weather Information for Tourists website. While you're in Hong Kong, you can also dial 1878-200 and press '3' for English to check the latest situation.
---
Currency
The currency used in Hong Kong is HKD, which is pegged to the US dollar at a rate of about $7.80 HKD to $1 USD. While coins are issued by the Government, interestingly, the issues of Hong Kong bank notes are shared between three commercial banks: HSBC, Standard Chartered Bank and Bank of China. These notes vary in design and colour according to denomination. Find more on Hong Kong's coins and banknotes in the website of Hong Kong Monetary Authority.

Foreign currency or traveler's check can be changed to HKD at banks. Credit cards are widely accepted in most establishments. Electronic payments such as Apple Pay, Android Pay, Alipay and WeChat Pay are also accepted in some department stores, chain retail shops and restaurants. Such premises usually display stickers showing the credit cards and electronic payments they accept at their entrances or at the cash register. ATMs can be found almost everywhere. Many take international cards and some HSBC "Electronic Money" machines provide 24-hour cash withdrawal (HK$) facilities for Visa and MasterCard holders.
---
Electricity and Voltage
The standard electronic voltage in Hong Kong is 220 volts AC, 50Hz. Most hotel bathrooms also have outlets for 100 volts, but if not, you will need a transformer for any appliance or electrical equipment. Plug G is used in Hong Kong as shown below: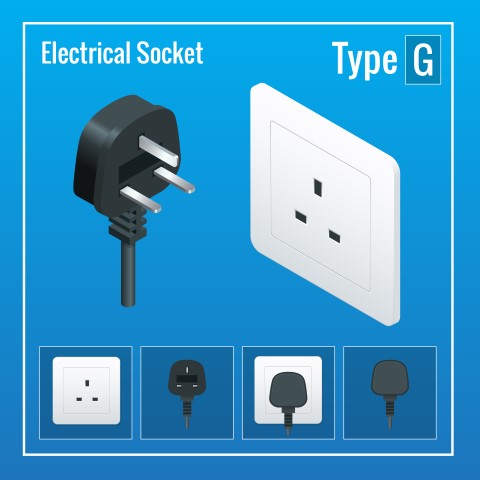 ---
Using Mobile Phones / Telephones
Most of the world's mobile telecommunications systems operate in Hong Kong, including GSM 900, PCS 800, LTE, CDMA and WCDMA. Check if your service provider has a roaming agreement with a Hong Kong operator. And be sure to pay attention to the roaming rates! You can also rent local SIM cards when you arrive at the airport or in town. Prepaid Calling Card and Mobile Data Prepaid SIM Card for mobile phones can be easily purchased from major convenience stores in Hong Kong.

Local private landline telephone calls are free and cost only HK$1 for five minutes from public telephones. International Direct Dial (IDD) service to most countries and regions of the world is available at most hotels for a fee. The IDD code for Hong Kong is (+852).
---
Wi-Fi
Free Wi-Fi service are widespread in Hong Kong. There are many Wi-Fi.HK hotspots available across the city in locations such as major tourist attractions, shopping malls, parks and gardens, visitor centres, sports venues, museums, ferry terminals, cooked food centres and government buildings which offer wireless internet connection completely free or free for a period of time. Visit the Wi-Fi.HK website or download the app to search for a list of hotspot locations and SSIDs.
---
Shopping
Hong Kong shopping is one of the city's real attractions, there are various retail shops which generally open from 10am to 10pm daily. Most shops in Hong Kong accept major credit cards but at the open-air markets, most vendors will only receive cash. To know more 'where to shop', you can visit the website of Hong Kong Discovery.
---
Dinning
With Over 15,000 restaurants at your service in Hong Kong, where do you ever start? You can visit the website of Hong Kong Discovery, read on for a guide to city's not-to-be missed eating experiences. Whether Chinese, Asian or from farther afield, each bite is truly Hong Kong.